In April of 2003, Philip Lamb and Susan Magilow completed a large-scale artwork for a 40,000 square foot Concourse at Dallas Love Field Airport. The Concourse was built to carry passengers from a newly constructed parking garage to the existing terminal. Their mission was to do artwork that enhanced the experience of people using the Concourse and its five moving sidewalks. It was accomplished by designing complex yet accessible wall installations that animate and transform as passengers glide by on the sidewalks. Also, as passengers move from sidewalk to sidewalk, they walk through terrazzo-floored lobbies with the names of 1,511 Texas cities. These lobbies were designed as a conceptual adjunct to the walls.
Please scroll the page for views of the installation.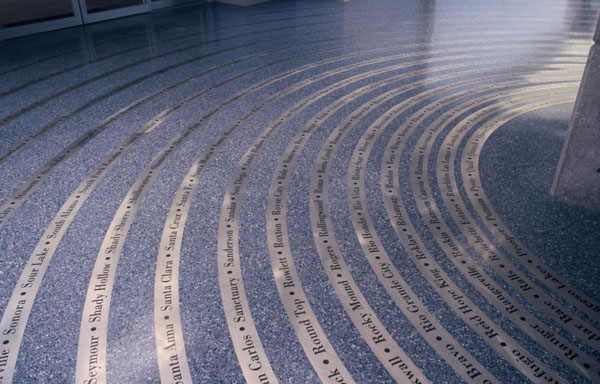 Upon entering the Concourse at the end furthest from the terminal, the viewer sees one of four lobbies that list 1,511 Texas cities in alphabetical order. The text in the aluminum arcs was computer-routed and filled with black epoxy. The arcs were then set flush into the terrazzo floor.
---
Images on the walls opposite the windows are dimensional. One image can be viewed when looking down the length of the concourse, achieved by the alignment of separate 6-inch wide "fins" that are mounted perpendicular to the wall. A different image is seen when looking directly at the wall. Thus when the viewer travels along the Concourse on the moving sidewalks, the two images reveal, interact, and disappear.
---

Another section of the Concourse wall.
---

The reveal of the background in this section.
---
This section depicts a blending of images from Big Bend National Park (left) and Monahans State Park (right).
---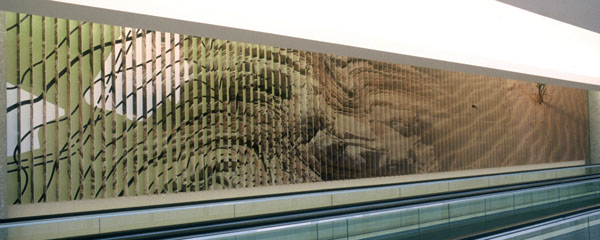 The topographic map used as the background of this section serves as a "legend" for the overall terrazzo floor design.
---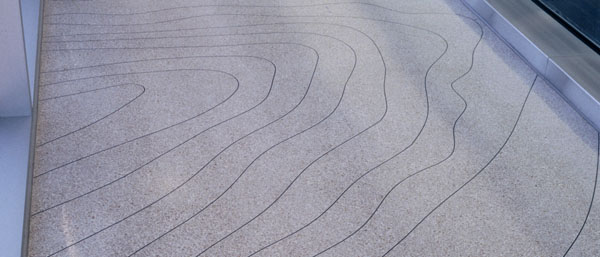 The topographic patterns in the terrazzo floor are based on five geographically different areas in Texas.
---
This section's imagery is based on Texas resources: grasses, forests, wind power, and petrochemical refining.
---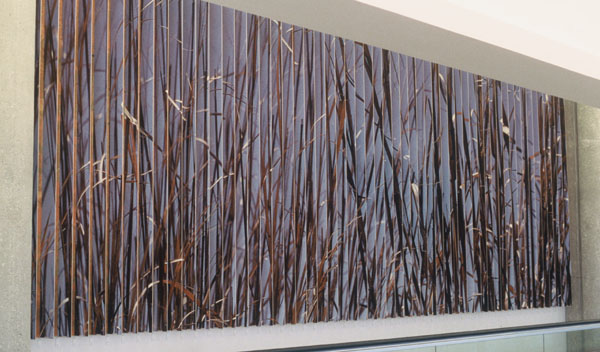 The grasses section.
---
This shows the transition from the background, a satellite view of Lake Sam Rayburn, to a petrochemical refinery in Baytown.
---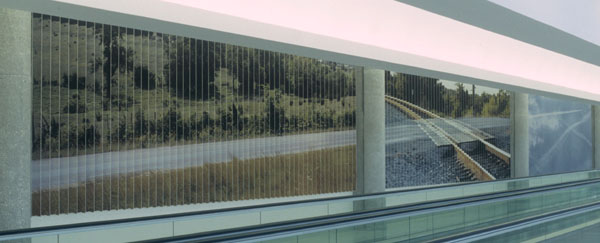 The last section before reaching the terminal entrance.
---
The transition occurring in the middle section of this area.