This scenic projection design for "The Rocky Horror Show" was for a production by Denton Community Theatre, Denton, Texas. It was staged November 13 through November 21, 2015.
The bulk of the set design was achieved through the video projections. Some hard-set pieces and props accompanied the design. It is designed for rear projection on a 13.5' x 24' screen. It's possible that it could be adapted for front projection.
The projections are video segments created as Quicktime movies linked together in a Keynote file running on a Macintosh computer. The individual Quicktime movies could be provided separately to be linked and cued with whatever software you prefer.
Contact Philip Lamb for more information: email at:
biz(at)philiplamb.com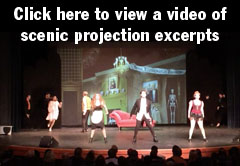 The above video will open in a new window.
Package includes:

• All video files for projections, and any elements needed for editing if requested
• A cue sheet
• A reasonable number of consulting phone calls and emails.
Package does NOT include:
• Computer for playback of video files
• Projection screen
• Video projector
• On-site operator/ technician
• Any video production required to adapt projections to your particular specifications
• Hard set pieces and props