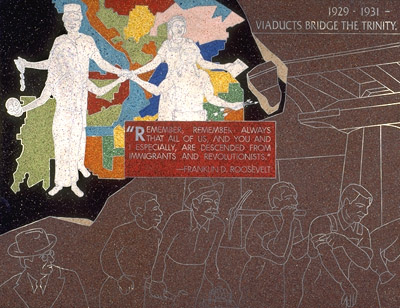 Panel Ten
The monochrome mural in this piece is especially significant, because it alludes to the era and a political movement that made possible the Hogue/Bywaters project -- Franklin D. Roosevelt's The New Deal. The construction of the Trinity River viaducts (Houston, Commerce, Continental) were Works Progress Administration projects whose significance, beyond their economic impact, was the linking of Oak Cliff to downtown. The union of workers from all races is represented in Hogue and Bywaters' artwork. Franklin Roosevelt is in the lower left corner.
The importance of uniting the city is carried further in the color mural, which represents the coming to power of minority citizens of Dallas, most recently by the federally mandated redistricting of City Council districts, shown in the background. Four cultures are represented, each holding objects that symbolize darker days of their past: A black man holding chains (slavery), an Hispanic woman with a deed for land (loss of Texas by Mexico), a Southeast Asian woman holding a human skull (killing fields of war), and an American Indian with arrows (loss of native lands).
The quote is from Franklin Roosevelt: "Remember, remember always, that all of us, and you and I especially, are descended from immigrants and revolutionists."