The set projections for "Young Frankenstein" were originally produced for Music Theatre of Denton, in Denton, Texas. The staging was in October of 2013.
The projections were designed to augment a physical set, but it is possible that the projections could be a main set backdrop enhanced with minimal set pieces and props. The screen size for the original production was 9 ft. tall by 12 ft. wide. The videos are Quicktime movies embedded in a Keynote file to run on a Macintosh computer. The Quicktime movies can be provided separately for you to program with an alternate method.
Contact Philip Lamb for more information: email at:
biz(at)philiplamb.com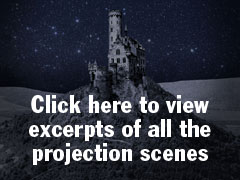 Package includes:
• All video files embedded in a Keynote file, OR ...
• All the Quicktime movies as separate files for your own programming
• Custom editing to place your actor's photo as Victor Von Frankenstein
over the fireplace mantle in Act 1, Scene 7.
• A cue sheet
Package does NOT include:
• Rear projection screen
• Computer for playback of video files
• Video projector
• On-site operator/ technician
Click here for information about running projections on a PC/Windows computer
Click on the photos below to see larger images opened in a new window.
(Photos courtesy of Michael C. Foster)
Link to Michael C. Foster website