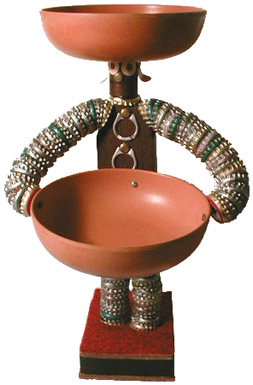 Wee Willie Williams
Dimensions (HWD): 13" x 8" x 9"
Body type: 1 x 4 lumber
Best guess of gender: Male
Distinctive features: Plastic bowls; paper hole reinforcements for eyes, with sequin pupil; aluminum pull-tabs for ears and torso decoration; wood-grain contact paper covers torso and head; indoor/outdoor carpet on base.
Notes: Gift from David Shinn. See the Story of Wee Willie Williams.