This projection set design, involving two-screens and two-projectors, was developed for a production staged by Denton Community Theatre, Denton, Texas, in March 2009. Also available is a simpler version that requires only one projector and screen.
The more complex design involves multi-level platforms surrounding an orchestra performing onstage. Upstage is an 11-foot x 20-foot rear projection screen. Eight feet downstage from the rear projection screen is a custom fabricated "house" shaped scrim for front projection. The projections are a combination of video and still images. For example, during the opening waltz, the carousel is created by scrolling the horses right to left on the scrim surface, while on the rear projection screen, the horses are animated to move right to left. The effect implies a dimensional carousel. Virtual "set pieces" fly into place. Clouds part to reveal earth from space. All of the projection artworks are original brush drawings that were scanned and colorized.
The simpler version collapses all the artwork for the two screens into one rear-screen video projection.
The videos and stills are driven by a computer, which is not provided as part of the package. The video projectors are also not included.
Contact Philip Lamb for more information: email at: biz(at)philiplamb.com
Package includes:
• Schematic drawings of stage platforms and projection specifications
• Video files for projections, and any original elements needed for editing
• 12-foot x 12-foot "house" shaped scrim for front projection, including support structure and scrim material (for the more complex two-screen version)
• Cue sheet
Package does NOT include:
• Rear projection screen (approx. 11-feet x 20-feet)
• Stage platforms
• Computer for playback of video files
• Video projectors
• On-site operator/ technician
• Props
• Shipping costs
Click here for detailed technical specifications regarding the staging and projections.
Click on the photos below to see larger images opened in a new window.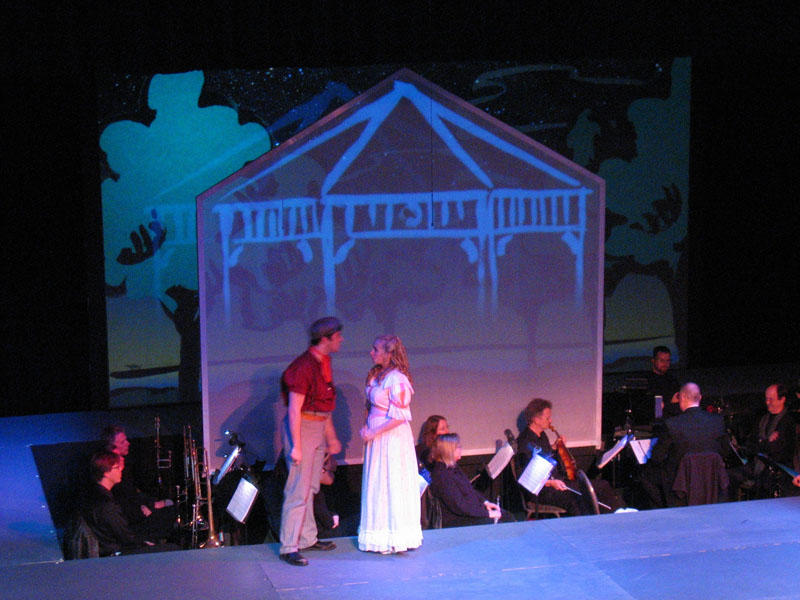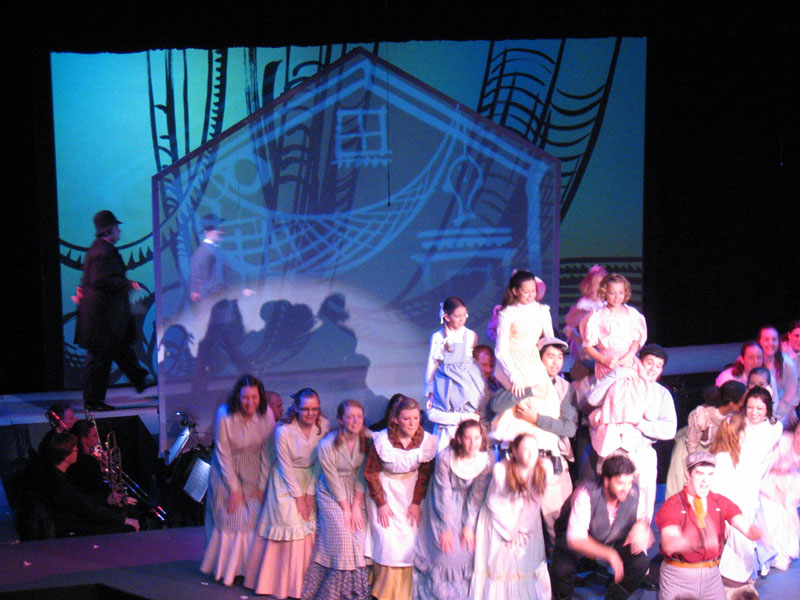 Click the image below to see stills for each scene that simulate the combination of front-projection scrim artwork and rear-projection screen artwork.